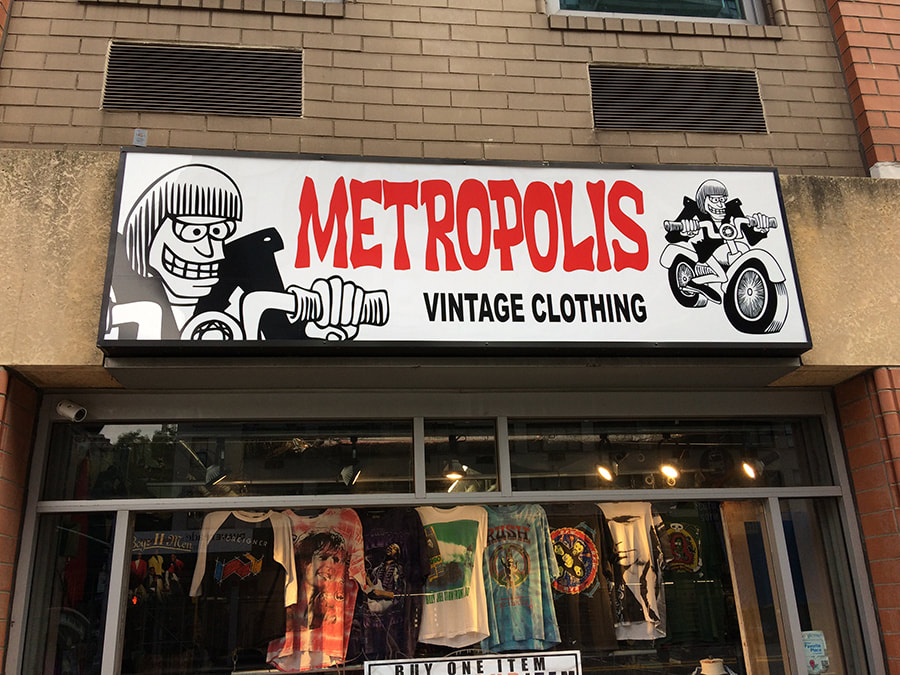 A neighborhood clothing store that specializes in vintage rock 'n' roll clothing (no, not Varvatos, this place is more authentic), hired me to do a drawing for an anniversary celebration last year. They liked it so much that they now are using it all over the place! It's the new store sign, it's on their shopping bags, the Website, etc. etc. I think the drawing and lettering came out great and I get stoked whenever I walk past it.
Metropolis is located at 43 Third Avenue, just below East 10th Street. Two Ramones used to live across the block back in the day (Joey on East 9th Street, Johnny on East 10th Street), The Continental is just a block south, I live one block away… Yeah, it's a great location.
I met the store owner (Richard Colligan) a few years ago, when he bought a vintage Ramones t-shirt from me off of eBay. His store is a passion project: He started selling pieces at flea markets in the mid-eighties and set up shop in the early nineties. Although most of that block has empty storefronts now, he's actually doing great business!
Stop by the store and buy something/anything: You'll get a very useful shopping bag with my artwork on it!
Or check out their Website:
metropolisvintageonline.com/metropolis-vintage-apparel-nyc/