Ruggero and Andrea drove me to Venice, one of the most famous cities in the world. I am very grateful for this, since everyone wants to visit Venice. Yes, it's beautiful and a very special place (for instance, there was an amazing exhibition of Leonardo DaVinci's "machines" at a local church), but I felt like I was visiting the West Village in NYC. It seems like super-expensive tourist traps have taken over most of it, and I was told that the "Chinese Mafia" has been buying a lot of local businesses. It was like being in Amsterdam, a city I love because it reminds me of New York City, but in when I was in Treviso? I felt like I was visiting Italy. ​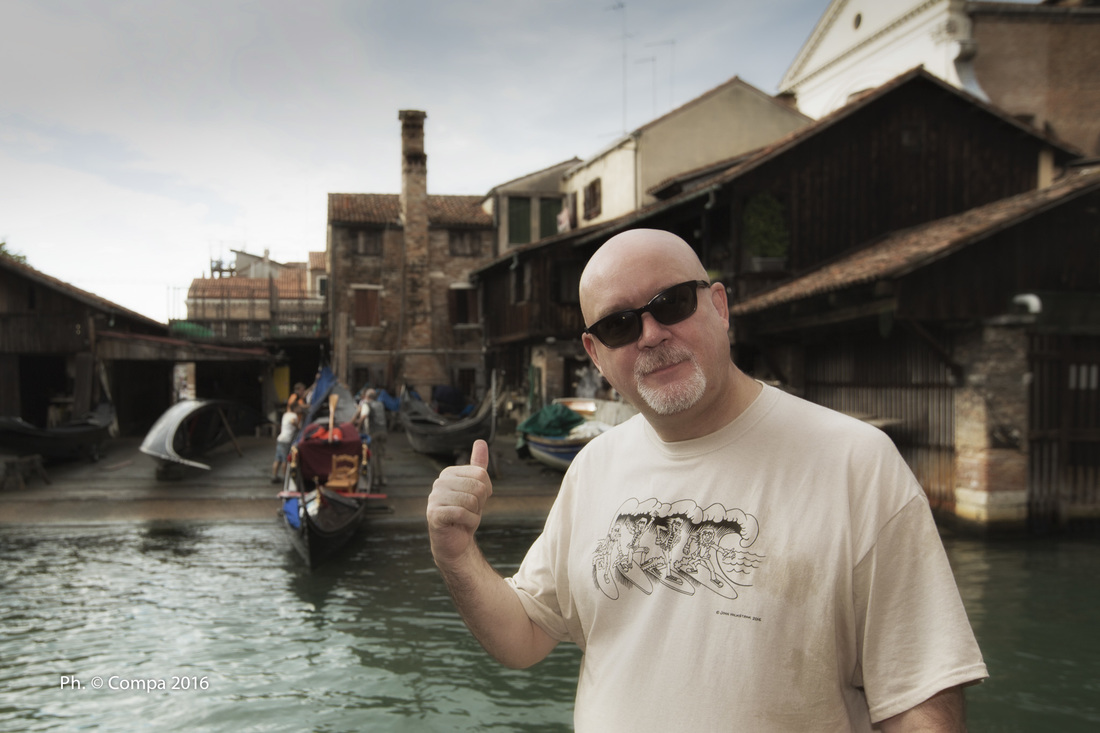 My trip to Venice was remarkable for two reasons: I met two of the most amazing people in all of Italy.
Alex Ruffini:
a famous Italian rock photog:

www.tuttorock.net/interviste/alex-ruffini-intervista-al-grande-fotografo
I don't know why so many of my good friends are rock photographers (Roberta Bayley, David Godlis, Bob Gruen, Joe Stevens, etc.), maybe it's because I am a frustrated rock photog myself. That was my dream job when I was younger, but since I was not a great photog I fell into drawing and cartooning about rock 'n' roll instead. I have always enjoyed the visual spectacles of great rock 'n' roll music, and Alex is a master of capturing great moments.
The other amazing person I met was
Mario Panciera
, an astonishing punk collector/fan/writer/musician/good guy. He has the largest archive of 1970s punk rock posters, flyers, records, CDs, magazines/fanzines, and artifacts in the world. I am not kidding. Unfortunately, photos of our visit were discouraged.
People who have seen his collection call it: "The Punk Rock Museum," and it is. Everything is framed and archived to the hilt. Mario is planning to make his collection accessible to the public someday, so I will keep you posted if/when it happens. I just have to say being allowed to visit his vast, perfect and complete archive of all things punk rock is something I am still trying to process, and was the most amazing time I spent in Italy. This might be the most amazing collection of artifacts by anyone of anything of all time. (I am not exaggerating!) For instance, he wrote the definitive book on the subject:

http://recordcollectormag.com/reviews/45-revolutions-1976-1979-punk-mod-powerpop-new-wave-nwobhm-indie-singles
We got along like brothers from another mother. We both started out as Alice Ciooper fans in the early 1970s, love everything punk rock from 1975-1979, and lost interest in punk rock after that. Mario discovered Love's "Forever Changes" LP and this became his favorite music after punk rock (I am also a fan of this LP, and saw Arthur Lee perform the entire record at the Cat Club in the 1990s). me? I still like punk rock and rock 'n' roll and everything, but dislike mainstream culture from recent years.